92 Year Old Grandad Killed By 28 Year Old Road Rage Driver – Video
An elderly 92-year-old man was shoved during a road rage confrontation and the heavy fall resulted in his passing away from his head injuries.
92 years old grandad Mr. Bancha Dithathaporn sadly passed away yesterday (4th May 2020) from an incident of road rage which happened on 15th April 2020.
The ex-teacher and civil servant got into a road rage argument with 28 years old Mr. Nan Manasiriwattanasakul which resulted in pushing him over and receiving serious head injuries… he banged his head so hard on the road that he suffered internal bleeding creating congestion and pressure on the brain..
The said incident occurred at Bang Nam Priao Market, Khong Akat Subdistrict, Bang Nam Priao District, Chachoengsao Province…East Bangkok…………Police Col. Somnuk Harnta, from Bang Nam Priao Police Station, revealed that Mr Nun Manat is currently imprisoned on the charge of physical assault resulting in death..
———
Sources: Thai PBS News:
Facebook Live :http://www.facebook.com/ThaiPBSNews/v…
Youtube Live :http://youtu.be/yzDSdRmorY8
Twitter Live :http://www.pscp.tv/w/1YpKkQNebwZJj
Woman's Donation Scam Kills 3yr old girl –VIDEO
A little girl named Yim was last seen smiling at the hospital after her 'supposed mother ' posted a picture on Facebook.
She also posted pictures of herself selling goods like face masks and then requesting donations from the public so she could pay the medical expenses for her supposed daughter.
A lot of people donated money after the post, In fact, 8,000 transfers totaling over 10 million baht and another 10 million in gifts.  Sadly shortly thereafter, Yim died.

Police Colonel Pawut Khanna, Director General of the Police Department arrested Nisthawongwan also known as Mae Pook.  A 29 years old citizen living in Bangkok.
According to the arrest warrant,  the charges so far are as follows; "accepting a child for the purpose of unlawful exploitation, trying to kill others with premeditation, attacking others to the point of death." , Defrauding by acting as someone else, defrauding the public " and now, the murder of a 3yr old girl Yim.

The investigative officer found many abnormalities especially the strange illness of Nong Yim, a 3-year-old girl who the accused claimed to be her own child, when in fact she wasn't. 
Yim, the 3-year-old girl was vomiting blood and was swollen all over her body, unable to walk and was admitted to the ICU at Thammasat Hospital, Rangsit.
Later, the doctor detected acidic chemicals, similar to chemicals that are a mixture of bathroom detergents in her system.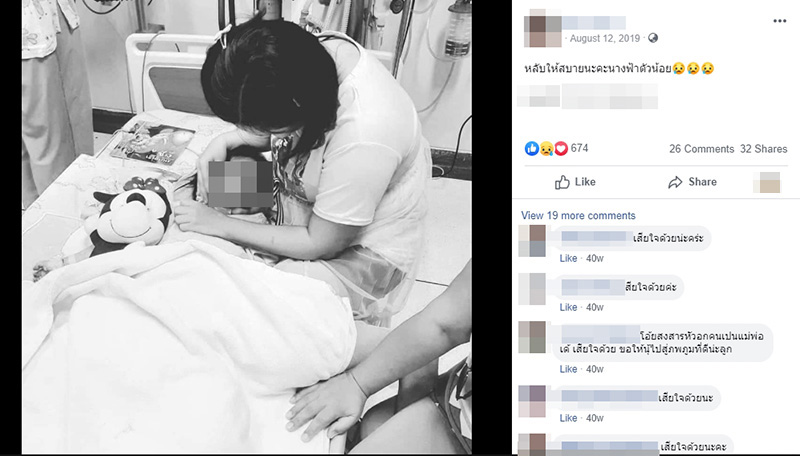 The case is still under investigation and the suspect is in custody.
There is suspicion she may have used another girl named Nong Lollipop for the same scam. But there is not enough evidence yet to prosecute on that case.

Sources: Thai Agency News
YOUTUBE: Thairath
Hard Working Issan Man Beats Cheating Wife to Death with Brick
PHOTO: Nation Thailand
Murder suspect Phis Chandapradit, 53, in the blue shirt at the police media briefing in Nakhon Phanom's Phon Sawan district on Thursday.
Phis beat his wife to death with a concrete brick and dumped her naked body in a septic tank behind their house at Na Sor village in tambon Phon Chan on Wednesday. He then covered the tank with cement which was discovered by their daughter after the rest of the family helped to break apart the cement.  Mr Phis's excuse was,  his wife was having numerous affairs with other men while he was  working in Singapore to help pay the bills
Source: Hard working husband charged with murder of wife with many lovers
(Photos from Workpoint TV) NAKHON PHANOM
Murder of German English Teacher has damaged the image of Thailand, says media
Picture: 77kaoded
Prachinburi chief of provincial police said that he expected good news soon after he chaired an investigative meeting looking into the murder of a German English Teacher…
This last Wednesday murder victim, 59-year-old Klaus Wilhelm, had asked his 49-year-old Thai wife to collect ฿40,000 for him on Tuesday. She found him stabbed in his bed at his home in Prachinburi province after traveling there on her motorbike to meet him. Police were reported to be questioning the woman to rule her in or out as a suspect at this stage.
Klaus was a popular man and his death was very bad for the image of Thailand said 77kaoded, thus prompting a full police investigation.
Pol Maj-Gen Naradech Klomthuksing ordered a number of separate task forces to be set up to investigate every angle of the crime.
Suspect and cause are possibly a family dispute, a woman or robbery was the reason for the vicious murder.
News Source: 77kaoded