Greater Manila Region Returns to Lockdown as COVID-19 Surges–VIDEO
Greater Manila Region Returns to Lockdown as COVID-19 Surges Millions of people in Manila and nearby cities. Filipino citizens will see their movements restricted again, starting Tuesday, after President Rodrigo Duterte ordered that the Philippine capital region be placed back under a COVID-19 lockdown as the number of confirmed cases surged past 100,000 over the weekend.
Source: Greater Manila Region Returns to Lockdown as COVID-19 Surges
Join our Private Facebook Group!  Meet ex-pats and make new friends, share advice, promote business, travel tips & events, share experiences and ideas.
Indian serial killer confesses to over 50 killings
India still remains in shock days later after hearing about Devender Sharma, a serial killer who was recently arrested again after he had escaped for 6 months while under parole. He ended up confessing to killing at least 50 taxi drivers before throwing them into a crocodile-infested river.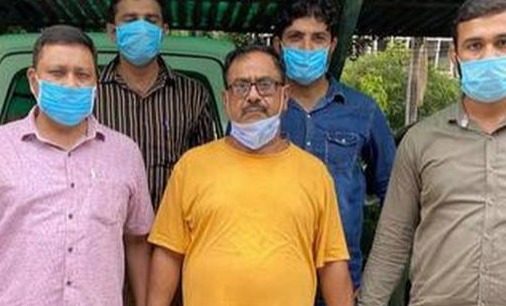 After spending 16 years of his life sentence in prison, the 62-year-old  former doctor was given 20-day parole in January but never returned, according to Indian police.
But police finally caught up with the wanted fugitive, Mr. Devender Sharma age 62 and former Indian doctor from Uttar Pradesh. He was arrested on Wednesday, July 29th while hiding out in a Suburb of New Delhi. He was living with his newlywed widow who he had married during the 6 months he went awol. He later told police he had no intention of ever returning to prison.
Mr. Sharma holds a bachelor's degree in Rachawiharn and opened a clinic back in '84 in Rajasthan. Almost 10 years later he invested 1,100,000 rupees (almost 460,000 baht) to be a gas distributor. But would later suffer financial problems in 1995.
That's when he chose the life of crime to make ends meet and in the early 2000's he became a fake gas dealer in Uttar Pradesh where he was first arrested. Later he would move again to the neighboring town of Rajasthan where he would open up his second clinic up until 2003.
Sharma has a long rap sheet including numerous cases of kidnapping and the murder of taxi drivers from Delhi, Gurgaon, Faridabad and other NCR between 2002-2004. However, the court has only sentenced 7 cases to life imprisonment after he was caught red-handed killing a driver in Aligarh in 2004.
According to Delhi police, Sharma was eager to go into great detail about his criminal past. In fact, when police asked Mr. Sharma how many taxi drivers he had killed,  he answered that he lost count after killing 50 or so.  But the police expect Sharma may have been involved in the murder of more than 100 bodies due to lawsuits in many areas.
Mr. Sharma described how he would hire taxis to take him to isolated areas and kill his victims before removing their kidneys. After the removal process who would then toss his victims into the Hazara Canal, which is home to crocodiles. He would later admit to at least 125 illegal kidney transplants which earned him $7000 to $10000 USD a pop. He was making a killing!
Sharma added, that after he and his accomplices would pose as passengers, and dump the bodies he would then turn around and sell the taxi cabs between $250 to $300 USD at illegal auto markets in Uttar Pradesh. They were usually sold for parts so they couldn't trace them to their deceased owners. In most cases, the bodies were not recovered while family members still wonder where their loved ones have gone.
Mr. Sharma should be facing his execution shortly with no chance at parole over again.
Sources:
https://www.khaosod.co.th/around-the-world-news/news_4630782?read_meta=%7B%22label%22%3A%22articlepage_number1%22%2C%22group%22%3A%22NA%22%7D
written and translated by: Gerald Winik
Join our Private Facebook Group!  Meet ex-pats and make new friends, share advice, promote business, travel tips & events, share experiences and ideas.
Thai Rock Restaurant owners in Sydney become victims of cyber-bullying after 2nd coronavirus outbreak-VIDEO
Thai Rock Covid-19 victims **
The owner of two Thai restaurants in Sydney, Australia, which are linked to more than 100 cases of Covid-19 infected, say they are afraid to leave their home after receiving hate letters from others.

Stephanie and David Boyd own the Thai rock restaurant in Potts Point and Vetland Park where 101 new strains of the coronavirus have emerged.
Most recently, the couple came out for an interview with the media saying that they really don't know why there are so many new cases and believe they are not the source. The shop owner says he uses all safety measures to prevent any spread of the virus.
After an investigation, both owners recently learned that the virus did in fact spread from inside the store after one employee tested positive for COVID-19 after having a runny nose.
But prior to one of their employees testing positive, all their employees were ordered to undergo a medical examination and both restaurants are regularly disinfected to guarantee a safe eating environment.
In addition, Mr. Boyd also said that they check the temperature of all employees before entering their shift and handwashing gel is provided at each table which has a distance of 1.5 meters. On top of that, they ask customers to fill in their personal details before using the service. So it is understandable why both restaurant owners are confused as to how the infection sparked from within their two restaurants after enforcing so many safety measures for their guests and staff.
They believe that the numerous accusations are nothing but rumors and the couple has become a target of hate on social media while the cases of infected people steadily increase.
The couple added, "It's not fair!, We understand that people are alarmed by the virus, and we understand that people feel the need to blame someone…but we shouldn't be condemned, we are victims too."
Ever since the story went public, the restaurant's Facebook page became littered with false accusations. Neocitizens stated that both restaurants didn't comply with social spacing measures and the staff refuses to quarantine themselves.
"We were so scared that we couldn't dare go out," the husband said.
Source:
Join our Private Facebook Group!  Meet ex-pats and make new friends, share advice, promote business, travel tips & events, share experiences and ideas.
Jade mine collapses in Myanmar, killing over 200 people–VIDEO
A Myanmar jade mine collapses – On July 2 there were reports from a Thai-Myanmar border in Mae Sot District, Tak Province, at 11:00 am of a landslide that had collapsed. The mine was in a basin in the middle of the valley where a large tsunami had hit. The battered bodies of more than 160 jade miners were pulled from a sea of mud after a landslide in northern Myanmar on Thursday after one of the worst-ever accidents to hit the treacherous industry.

Many low paid miners die each year while working in the country's lucrative but poorly regulated jade trade.
The disaster struck after heavy rainfall pounded the open-cast mines, close to the Chinese border in Kachin state, where billions of dollars of jade is believed to be mined each year from bare hillsides.
A slice of the mountain collapsed, causing a landslide of mud into a once aquamarine-colored lake into a brown blood bath of mine wastewater as workers tried to escape uphill.

Many people were  floating in the water, said, witnesses, and
dozens "were covered by a wave of mud", the Myanmar Fire Services Department said in a Facebook post.
Rescue workers, including the fire department and local police, worked throughout the day while pulling bodies out of a muddy lake under continuous heavy monsoon rain.
"By 7:15 pm, 162 bodies were found," said the department, adding that 54 people who were injured and sent to nearby hospitals, there were still some missing as the search continued.
The bodies of miners were laid out in rows under tarpaulins, as relatives and friends showed signs of dolefulness.,
The rescuers worked quickly due to the fear another section of the mine could collapse as the heavy rain continued to challenge them.

Rescuers believed there were more bodies buried underwater so they just recovered the dead bodies that were afloat into the nightfall.

As miners continued scavenging for gemstones on the mountainous terrain in Hpakant township, the victims had ignored earlier warnings by local authorities not to work the mines during the monsoon rains.
UPDATED: 162 Dead (19) have been found and 54 injured (15) people were sent to the Phrakant hospital and the Waqar hospital.
===================================
23 injuries (23) were sent to Fakant hospital and whichever hospital during landfall.
The search continues.
Workers will continue to risk their lives daily in the hope of hitting the jackpot — A good quality jadeite that could fetch tens of thousands of dollars, changing their lives.

Source: https://siamrath.co.th/n/167034

FACEBOOK: Photos and story

Join our Private Facebook Group!  Meet ex-pats and make new friends, share advice, promote business, travel tips & events, share experiences and ideas.