CCTV Captures Ghost at Udon Thani Hospital–VIDEO
Scary goings-on at an Udon Thani hospital
CCTV on May 23 captured a wheelchair being wheeled around on its own at Ban Kham Doung Hospital in Udon Thani. Thanasak Pakdeenuan, the director of the hospital confirmed with reporters, that there weren't any remote control devices or anything hidden around the area, just a spooky wheelchair doing things on its own.
Nurses are convinced it is the ghost of a former patient who passed away and is now planning to do a Buddhist seance in an attempt to help free the spirit so it leaves the hospital.
A nursed laughed and said, it's just in case even though I believe in ghosts".
Join our Private Facebook Group!  Meet ex-pats and make new friends, share advice, promote business, travel tips & events, share experiences and ideas.
Udon Thani Police join forces with Pha Muang Forces Seizing over 4 million methamphetamine tablets–VIDEO
In an attempt to crackdown on the drug trade, Pha Mueang forces joined with Udon Thani police setting up checkpoints.
Earlier, on 30 July, Pol. Gen. Than Than Pholkosaiwawi, the commander of the Pha Mueang Armed Forces, assigned officers to increase drug enforcement after continuous smuggling occurred along the northern border especially after relief measures for COVID-19 had been lifted.
Cavalry Task Force Unit 4 and Pha Muang Forces, together with the police at Chaiprakarn Police Station, Chiang Mai Police Station No. 334, set up a checkpoint before finding a blue Isuzu D-Max pickup truck, registration number 5297, Bangkok. A Mr. Thotsaporn Sae-llo, 24 years old, was driving when stopped for an inspection.  Officers found about 4 million methamphetamines in a 40-piece backpack and therefore confiscated it as evidence. Mr. Tosaporn was arrested and brought to Chai Prakan Hospital to further investigate the prosecution.
The same day, Mr. Nirat Pongsitthaworn, the governor of Udon Thani, together with the Provincial Police of Udon Thani, announced the arrest of Natthawut Subin, 19 years old and Mr. Patimakorn Mai Kami, 19 years, along with 768,000 amphetamines tablets inside a  Mazda sedan. The two young smugglers were arrested at the roadside in Sung Noen Village, Noen Yang Subdistrict, Kham Muang District, Kalasin Province, in the middle of the night on 29 July. However, both escaped while in custody.
Police from Udon Thani Province notified undercover narcotics agents alerting them about the two smugglers headed into the Kumphawapi district, Udon Thani province. They eventually found the suspects in Kalasin Province. and arrested them and seized the goods which were counted as the largest bust this year.
The amphetamines had an estimated street value of more than 11 million baht. As for the two suspects, they both confessed that they received all the amphetamines from Mr. Joe and were delivering the goods to customers in  Bangkok before going back to the supplier for more.
The two have also confessed to doing the same drug run 9 times, the job pays each of them 30,000 baht every run.
Provincial Police General Udon Thani Province announced that a network of drug dealers have been using Udon Thani province as one of their routes to smuggle methamphetamines Into the inner area and Bangkok.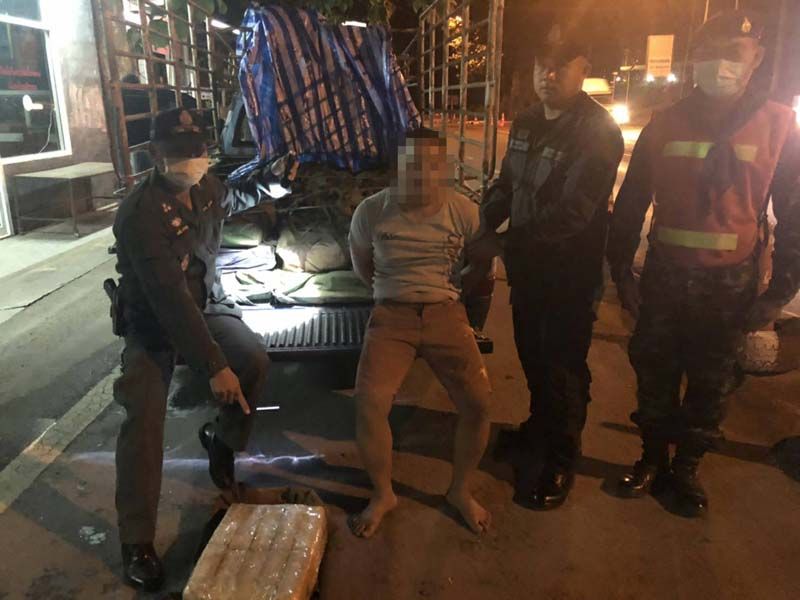 It was a good day on the drug war for all participants, especially Udon Thani province who arrested 2 smugglers and confiscated more than 768,000 tablets, adding to the already 4 million methamphetamine tablets taken off the streets.
Source: https://www.naewna.com/local/508632
YouTube:
Join our Private Facebook Group!  Meet ex-pats and make new friends, share advice, promote business, travel tips & events, share experiences and ideas.
Psycho meth user burns his own two motorcycles in Udon Thani
14 June 2020, 14.00 hrs. a  village headman in Hai Mo Subdistrict informed police that there was a psychiatric patient who was out of control in his village. The young man ( Mr. Sunan ) was from Hai Phue Subdistrict, Udon Thani province, and had consumed methamphetamines before he burned his two motorcycles.
When police arrived at the house they found the man still in a state of insanity so they used a dog catching hook to control the situation.
Once the man calmed down a little, he was detained and brought to Ban Phue Hospital before being referred for further treatment at the psychiatric hospital in Loei province.
Police say he has been to drug treatment 3 times already but refuses to stay clean.
Join our Private Facebook Group!  Meet ex-pats and make new friends, share advice, promote business, travel tips & events, share experiences and ideas.
Abbot In Udon Thani Hangs Himself
On 5 June 2020, the police at Chai Wan Police Station in Udon Thani Province received a 191 call from a Temple in Udon Thani, reporting that a monk had hung himself.  The temple was located at Wat Udom Thep Nimit, Ban Pa Kao, Phon Sung Subdistrict, Chai Wan District, Udon Thani Province.

On the way to the scene, many villagers were already watching the scene from their roofs which could see into the monk's wooden pole house. The police found the body of the chancellor, Chaiyawiriyaro, aged 57, he was the abbot of Wat Paudom Thep Nimit. He had torn his yellow robes to make a rope and tied one end to his neck and the other end to the ceiling of his cubicle of prayer.

His shoes still sat at the bottom of the stairs, as a fellow monk stepped over them to climb the stairs to his humble abode. Other monks had wondered where he was, not suspecting anything different.  But when he climbed up to knock on abbots door, he was shocked to see the abbot hanging from the ceiling. He ran and called the village headman to check and they called the police immediately.
After the post-mortem examination by a doctor, it was confirmed that the abbot's cause of death was suffocation. After  Investigating the crime scene, there were no signs of fighting, concluding that the abbot had committed suicide. However, now they are investigating why he hung himself. Questions are being raised about his mental condition.
Join our Private Facebook Group!  Meet ex-pats and make new friends, share advice, promote business, travel tips & events, share experiences and ideas.